Posted by Heather on 11th May 2022
5 Ways to Spruce Up Your Backyard with Lighting
Enhance your garden with these creative outdoor lighting ideas that will expand your use of your outdoor living space into the evening hours!
Spring is here, and are we ever ready to expand our living spaces into our backyard! We love exploring new ways to light up outdoor spaces, and we're working on expanding our summer line-up so you can do just that! We're also thrilled to be partnering with in-lite, a European-based landscape lighting company that's freshly expanding into the North American market. They provide high-quality low-voltage fixtures to illuminate your patios, pathways, and gardens. While we patiently bide our time through a strangely cold Spring season, here are 5 summer lighting ideas to get you planning your outdoor set-up this year!
1. Play with shadows by up-lighting your trees

We love the way these in-lite spotlights cast a dynamic shadow of the trees on the beautiful wooden fence in this backyard. Spotlights are perfect for adding more layers to your outdoor lighting display, by drawing the eye upward and giving you the ability to cast fun shadows of plants on your walls and fences.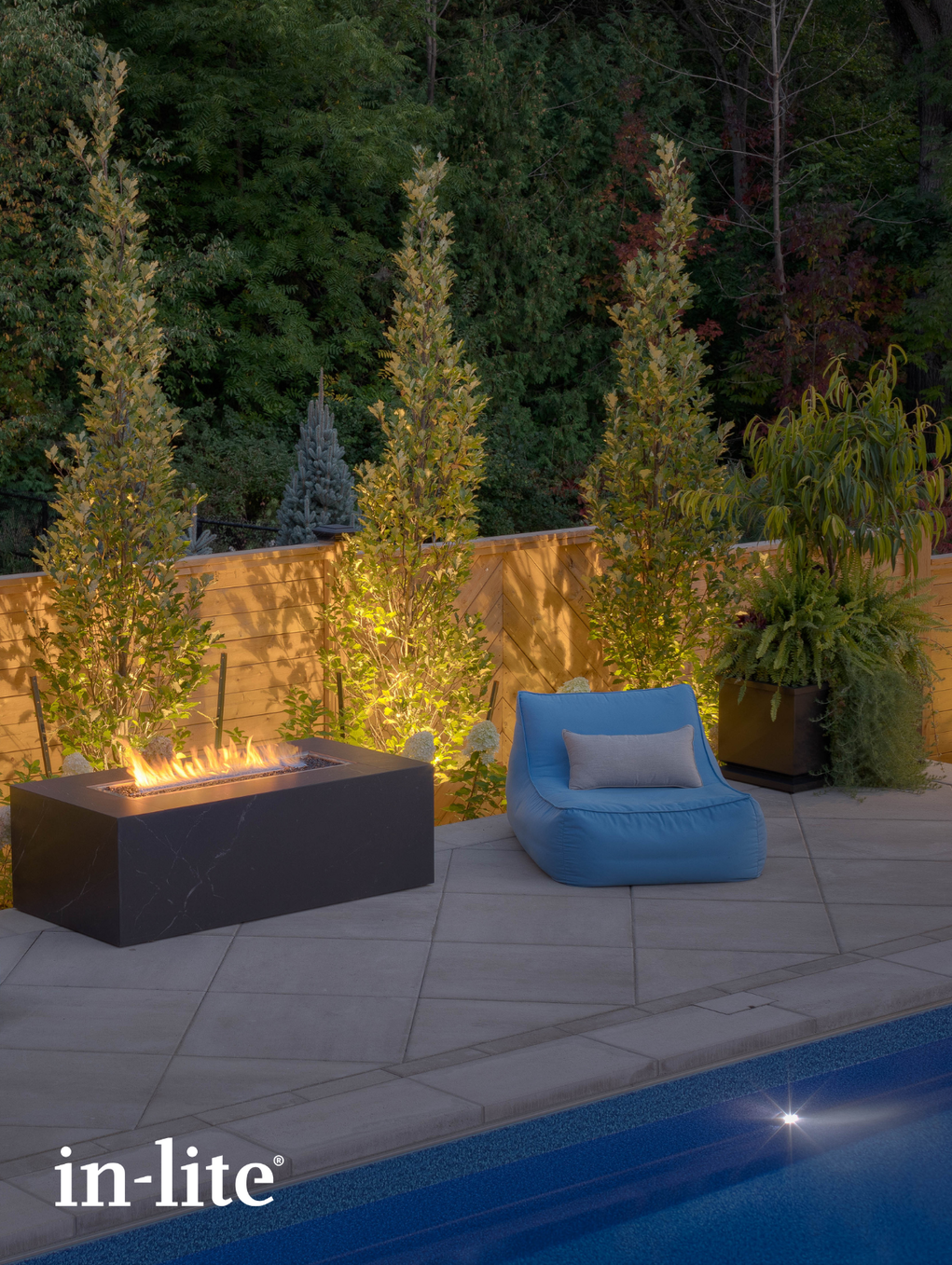 2. Hang patio lights over your deck or verandah

Simple bistro lighting is an inexpensive way to bring some dazzle to your outdoor space. Modern LED Edison bulbs cast the same warm glow you would expect from the incandescent lights of yesteryear, without the high cost of turning them on. Paired with our new metal shades, they create a nostalgic atmosphere, with the added bonus of casting more light downward for you to light up your outdoor eating area and reduce light pollution.
3. Decorate an arbour or pergola
Whimsically lit arbours and pergolas are not just for weddings and special events! They can stand as a beautiful feature in your garden, and lighting them up will attract the eye and extend your garden's usability into the nighttime. Pair a nice set of warm white 5mm string lights with your climbing rose, clematis, or wisteria for a perfectly soft and welcoming feature in your backyard!
Pathway lighting not only looks great - it serves a very practical purpose of making your yard more navigable in the evening! From a traditional style bollard that will blend into your yard seamlessly, like in-lite's DISC series, to a more dramatic statement piece like the ACE, there are numerous ways to illuminate your paths and driveways to be more visible at night time.
5. Illuminate the colour of your garden

Appreciate the beautiful colours of your garden, even at night time! Modern path and garden lights look beautiful amongst low shrubs and wildflowers. We particularly love the SWAY line of in-lite's path lights, which are flexible and move with the breeze alongside your plants.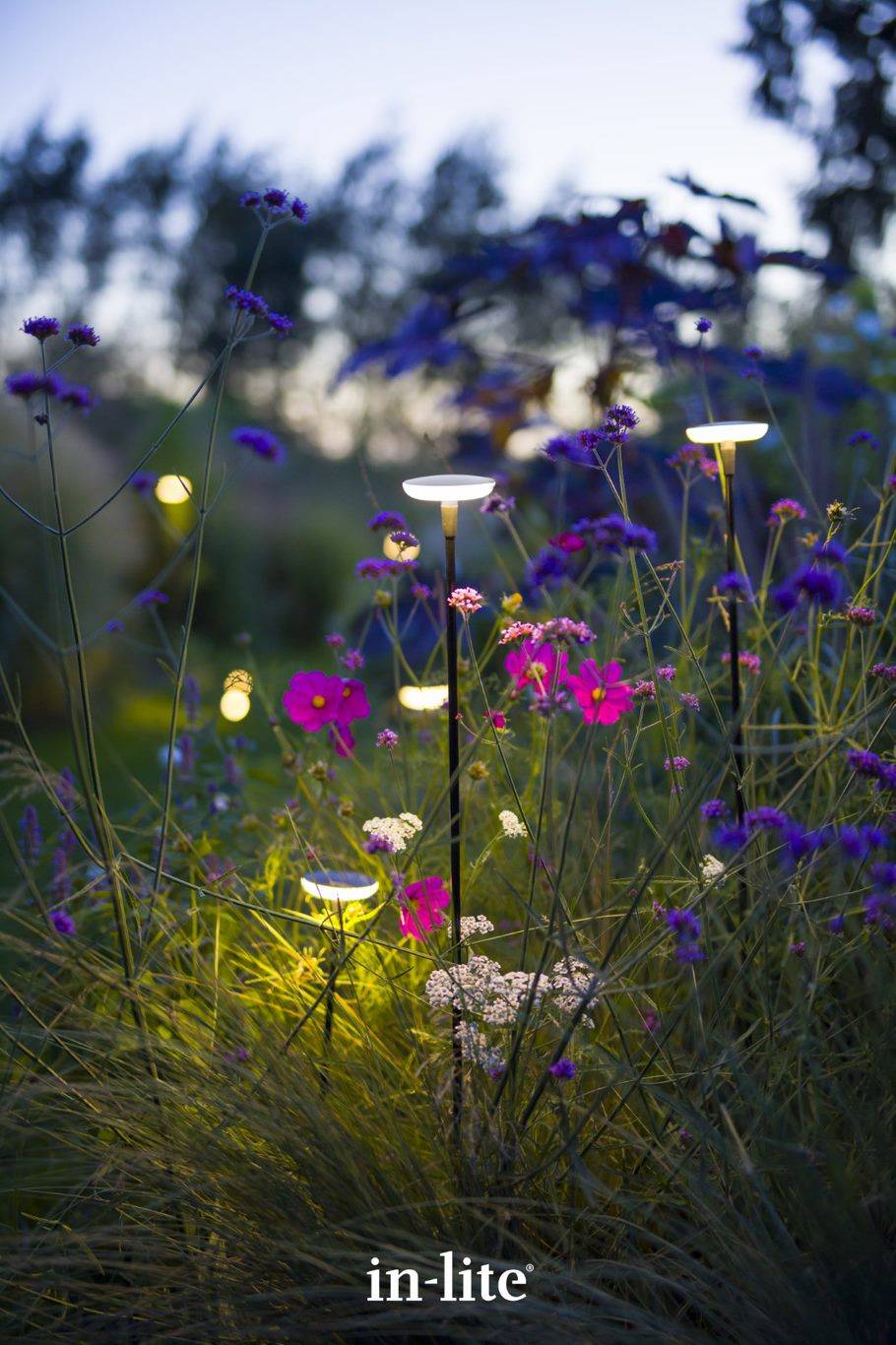 And there you have it - 5 ways to get creative with lighting your backyard to enhance your outdoor living space. Don't forget to turn off your lights when it's time to go to bed! With in-lite's landscape lighting system you can program your lights to turn off at a certain time, and if you're using other lighting products we encourage you to incorporate a timer into your display. Reducing night-time light pollution will not only please your circadian rhythm, but your animal and insect (and probably human!) neighbours will thank you as well.
The Pay 15 Save 15 pre-season sale is back for 2022. Whether you are maximizing profits in your holiday lighting business, or simply looking to save bundles of money on your own display, this is one of the smartest ways to start your 2022 Christmas light season.